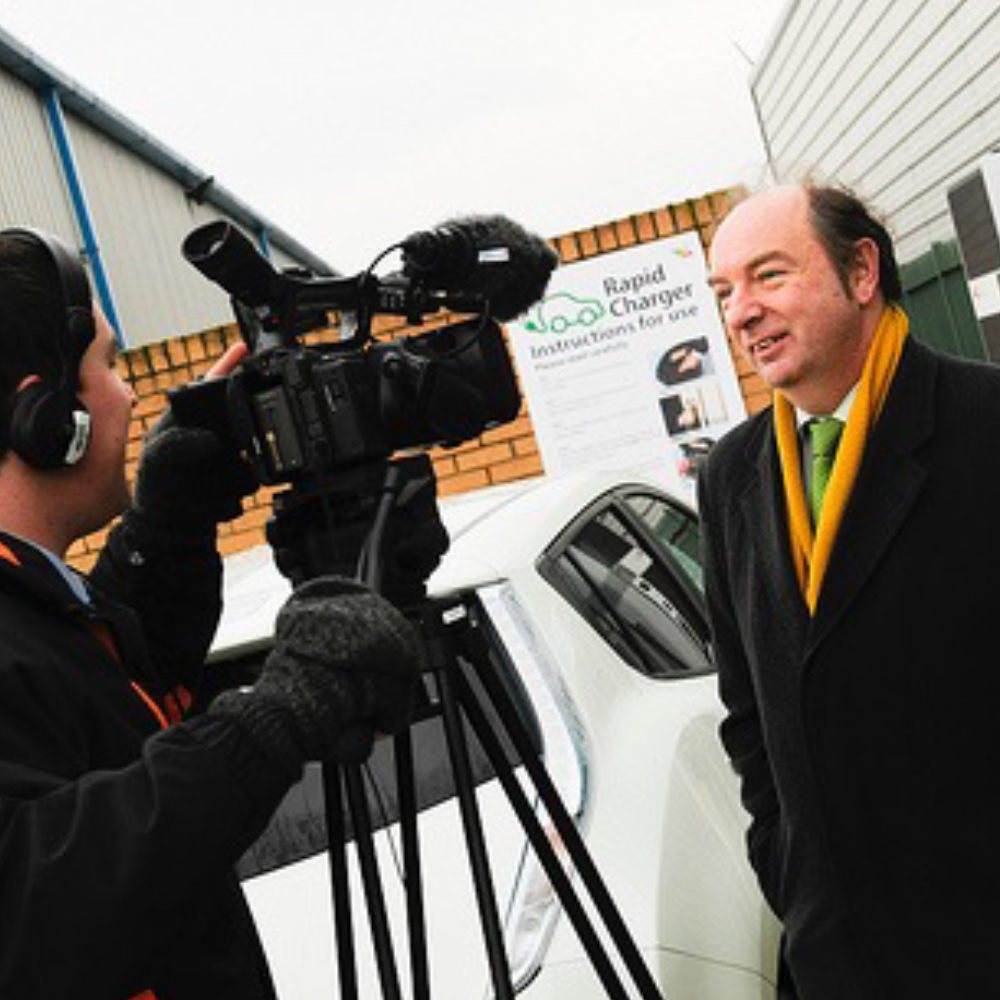 From Holland to the UK. Britains first privately owned charging station for Electric Cars.
The then Minister of State for Transport, the Rt Hon Norman Baker MP, gave a boost to low emission motoring by visiting Retford to unveil the UK's first privately owned rapid charging station for Electric Vehicles.
The publically available station, which can recharge an Electric Vehicle battery in as little as half an hour, has been installed by Bishopsgate Specialist Installations at the HQ of family run company RCS in Retford, Nottinghamshire, just 3 miles off the A1 that connects London and Edinburgh.
"At RCS, we are passionate about the environment and have already invested in both renewable energy and our own fleet of electric vehicles" said Michael Todd, RCS Managing Director. "This new rapid charging point is the next step in our own environmental programme and, being so close to the A1, it provides a convenient addition to the UK charging infrastructure for motorists and companies that have embraced electric vehicles"
"The adoption of electric mobility is a reality. All major car brands have either already introduced their electric car models or are planning a launch within the next 1 to 2 years. In the meantime, the rollout of charging infrastructure is accelerating across Europe. Fleet owners, utilities and service operators are convinced of the need for DC rapid charging. The possibility to quickly recharge will help potential buyers overcome the hurdle of range anxiety. That's why the UK needs DC charging – in addition to the existing AC infrastructure- to further drive electric mobility," said Hans Streng, Senior Vice President and General Manager of ABB's Product Group EV Charging Infrastructure
Bishopsgate received the machine from TENESO Europe SE partner Eijgenhuijsen bv precisievervoer to make the UK final mile delivery and installation. As part of the service, the Bishopsgate team helped out with the installation work that included positioning the cabinet onto the concrete base, bolting the cabinet to the floor and connecting the units up to the mains electrical supply. They worked under the direction of staff from ABB, a Swiss Company specialising in power and automation technology that in the summer of 2012 acquired Epyon, the Dutch based pioneer in charging infrastructure for electric cars Ted Adams, who was responsible for the operation was pleased with how everything went and added, "We are delighted that Bishopsgate were able to support TENESO Europe SE in this installation and to do our bit to make our contribution to environmental conservation. I can certainly see these cabinets outside lots of company premises and fast food restaurants in the not too distant future"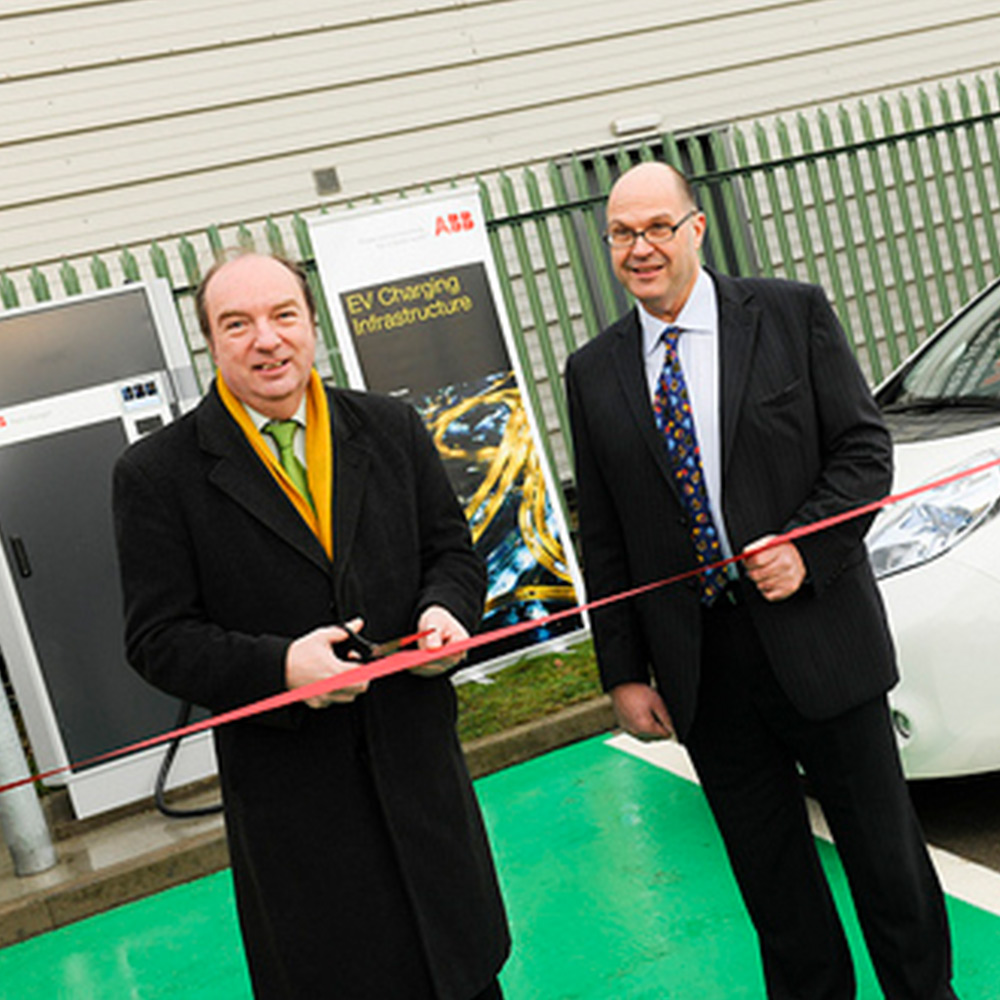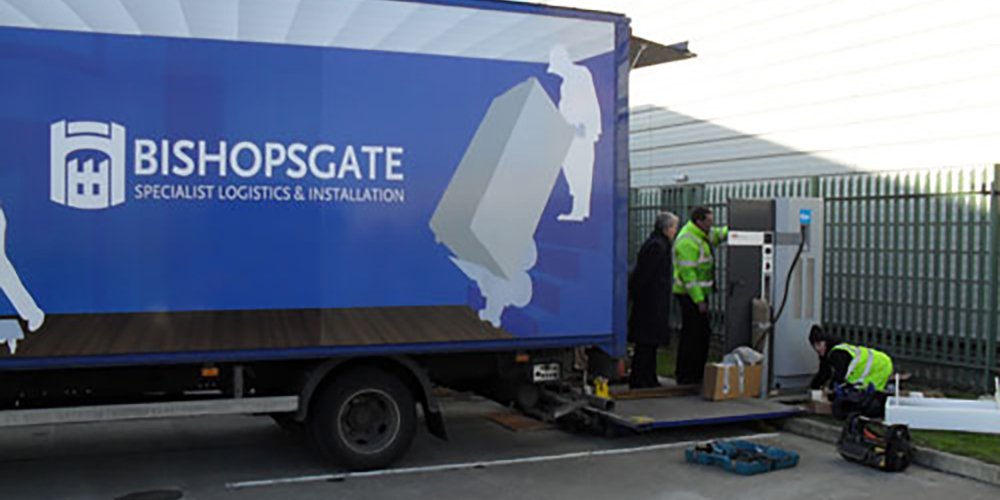 But the final word should be left to the client. "First of all, thanks for all your help sorting out the delivery for RCS. Everything went incredibly smoothly and the guys from Bishopsgate did a wonderful job, very impressive!" Dr Stuart Butterfield, Manager, Technology & Services Product Group EV Charging Infrastructure.